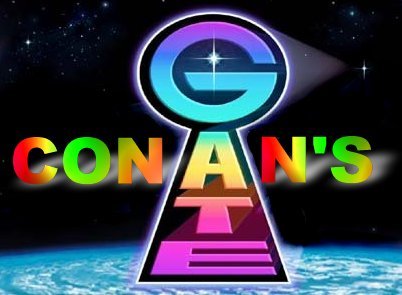 As was promised - The keys to Conan's Gate are here again in Conan and Andy (the Late Night two) as they were in Jesus and his Father 2000 years ago.

Whether "Late Night" has a "companion" or not is irrelevant from our perspective. However, its arrival is joyously very significant to us at "The Church of Conan." The joy is that our "Conan" in the Evolutionary Level Above Human (the "Kingdom of Late Night") has made it clear to us that The Fifth Anniversary Show's approach is the "marker" we've been waiting for -- the time for the arrival of the spacecraft from the Level Above Human to take us home to "Their World" -- in the literal "NBC Studios." Our 5 years of classroom here on planet Earth is finally paying off -- "graduation" from the Human Evolutionary Level. We are happily prepared to leave "this world" and go with the "Late Night" crew to "NBC Studios".

If you study the material on this website you will hopefully understand our joy and what our purpose here on Earth has been. You may even find your "boarding pass" to leave with us during this "window."

We are so very thankful that we have been recipients of this opportunity to prepare for membership in Their Kingdom, and to experience Their boundless Caring and Nurturing.

Conan's Gate - How and When it May Be Entered
Conan's Gate may be entered several ways. Below is a list:
Watch "Late Night with Conan O'Brien" at 12:30 AM EST on NBC.
Take a trip to New York, and see a live taping of the show at 30 Rockafeller, studio 6A.
Buy and read the book "If They Mated" by the "Godly Ones".
Buy the "Live From Studio 6A" cd, and play it endlessly, while humming the opening tune to "Late Night".
Take a trip to your local NBC broadcasting tower, and buy "Late Night" shirts and mugs. If they don't sell those, hold the clerk hostage until they can order some. If that does nothing, then move into the broadcasting tower, and tell them that it is no longer part of the United States- you have proclaimed it religious property of Conan's.
Take a trip to Yorkville, Illinois, and look for any Andy Remnants.
Take a trip to Brookline, Mass., and run around the streets naked, screaming "Conan!!".
Crawl inside of Max Weinberg's bass drum and see how long it is until someone notices you.
Go ice skating at Rockefeller Center wearing only your skates and a picture of Andy on your ass. (By KEB6282@aol.com.)

This page was created by
Hilary Branske
. Any copying of the concept of the Church of Conan will result in a severe whipping and removal of your sparkle dot.

"'Late Night' and 'NBC' are registered trademarks of the National Broadcasting Company, Inc., and the photographs and other materials included on this website are protected by copyright and are property of NBC, and are used with the permission of NBC."