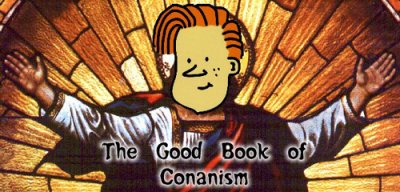 The Word of Conan has been spoken through many. Learn The Way through these writings, submitted by the holiest of Conanists. We do not know for sure which of these writings speak the truth; that may only be learned through time. If you have any submissions for The Bible of Conanism, please send it
here
. Thank you, and good luck on your mission through the Many Stages of Evolutionary Levels.

This page was created by
Hilary Branske
. Any copying of the concept of the Church of Conan will result in a severe whipping and removal of your sparkle dot.

"'Late Night' and 'NBC' are registered trademarks of the National Broadcasting Company, Inc., and the photographs and other materials included on this website are protected by copyright and are property of NBC, and are used with the permission of NBC."