The Church Of Late Night With Conan O'Brien
is dedicated to bringing an organized place of worship for fans of Late Night
with Conan O'Brien.

This is the only official Church of this kind.

The official name for this religion is "Conanism".

Anyone can be a Conanist as long as they believe in Conan O'Brien, Andy
Richter, And Max Weinberg.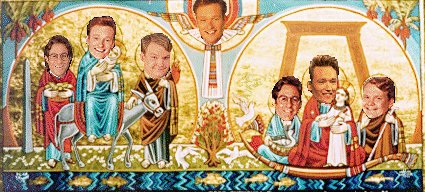 In the beginning was Conan O'Brien, and Conan O'Brien was with NBC, and Conan O'Brien was God. He was with Max and Andy. Through Them all things were made.
Gretchen 5:6-5
Do you love Conan, the Creator of all things funny?
And the laughter became flesh and dwelt among us, and we beheld His glory, the glory as of the only begotten of Conan, full of grace and truth.
Bimpy 3:2-0
God loves you so much that he also became a man, Conan, and bears with him the Holy Fun Sparkle.
Ask and it will be given to you; seek and you will find; knock, and the door will be opened to you. For everyone who asks for Giant Muffin receives; he who seeks Giant Muffin squeals; and to he who knocks, Muffin will dance.
Arphy 11:4-9
He asks of you one hour per day, five days per week. Seek Conan and He will seek You.

This page was created by
Hilary Branske
. Any copying of the concept of the Church of Conan will result in a severe whipping and removal of your sparkle dot.

"'Late Night' and 'NBC' are registered trademarks of the National Broadcasting Company, Inc., and the photographs and other materials included on this website are protected by copyright and are property of NBC, and are used with the permission of NBC."